Innovators longlisted for the 2019 Ashden Awards are using sustainable energy and design to boost the health of people around the world. Ahead of the award ceremony in July, see how they are transforming lives with cleaner cooking methods, light at night and warmer homes.
Clean cooking
Polluting cookstoves that use solid fuels, and woodfires used for cooking, kill four million people a year – mainly women. Poorer families are most at risk. But innovation has brought cleaner cooking to communities around the world.
Ester Tembo lives in a rural village in Zambia with her children and grandchildren, where she and her family farm maize and vegetables. Ester often cooks for up to 25 people at a time, sometimes with help from eight-year-old Dorkas. Ester used to have no choice but to cook using charcoal, creating high levels of dangerous carbon monoxide in her home.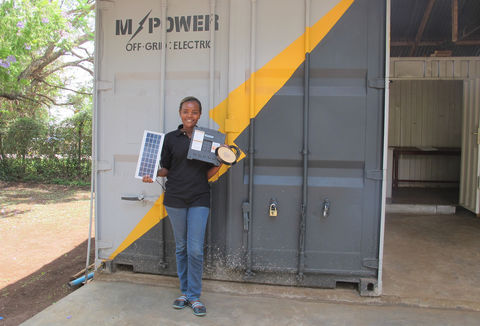 Sustainable energy
Energy for Development
Read more
Now she cooks with a new stove from Emerging Cooking Solutions, fuelled by sustainable pellets made from forestry waste. As well protecting forests and people's health, these stoves also cut cooking time by up to 75%.
The Beyond the Grid Fund for Zambia, longlisted for our financial or business model innovation award, is using a new funding model to help organisations such as Emerging Cooking Solutions reach more customers across the country – because no-one should put their life at risk to cook a meal.
Our Clean Cooking longlist features a host of innovators using technology such as biogas and liquified petroleum gas to replace more dangerous fuels. These organisations are building markets and pioneering new payment systems, making sure clean cooking reaches as many people as possible.
Light at night
Kerosene lamps are commonly used in the world's poorest countries – despite releasing dangerous fumes and putting people at risk of deadly fires. Solar lamps are a clean alternative, but one that is out of reach of many families.
Baobab+ has helped more than 150,000 homes in Africa to access solar lighting. Their pay as you go system allows people to buy a solar lamp with a small deposit followed by a series of flexible payments. Once all these payments are made, the buyer owns the lamp outright.
This system helps even the poorest people in society afford a lamp. And it opens up another important benefit – people can build up a credit history that lets them borrow money to pay them other life-changing items.
Sustainable energy
Sustainable Buildings
Read more
Solar Sister is another longlisted organisation creating change through solar lighting. It's helped people such as Raheli, a farmer and mother of six from Tanzania's Longido region, ditch their kerosene lamps. Solar Sister has also helped her and many others become businesswomen trading solar lights and other products.
Now Raheli visits nearby communities and local markets to sell the lamps herself. She says: "If I'm to take care of the house, I do so myself. I don't have to ask for money, I don't have to wait on [my husband]."
Warmer homes
In Armenia, Habitat for Humanity is making Soviet-era apartment blocks more energy efficient – and helping residents learn how to make energy savings. It's vital work in a country where high fuel prices force many families to choose between heating and eating.
This problem isn't limited to poorer countries. In Britain, more than 3,000 people die each year because they can't afford to properly heat their homes, charity E3G has found.
Longlisted UK enterprise RetrofitWorks is a cooperative, bringing together people interested in making their home more energy efficient and the experts who can make this happen. RetrofitWorks designs schemes, gives advice and offers a quality guarantee so people can book work with confidence.
Sustainable energy and healthcare
The links between health and energy go far beyond the home. For example, we know sustainable energy can drive better, more affordable, and more reliable healthcare in clinics, operating theatres and beyond. This area is the focus of our 2019 energy and health award.
The longlist includes SunFarmer and the Karuna Trust – enterprises using new finance models to bring clean and reliable power to hospitals. Sure Chill has pioneered a smart way of keeping vaccines cool and effective, while We Care Solar's 'solar suitcase' helps people deliver babies as safely as possible, even in the most remote places.
This year's diverse longlist shows just how strong the links between health and energy are. There's no doubt sustainable energy is a route to better health – it addresses the many health risks linked to climate change, as well as tackling other everyday threats that put millions of lives at risk.