In the very near future, we must drastically reduce our carbon emissions to very little, if not zero. Reports from the Committee on Climate Change give a target date of 2050, and many of us hope to hit the net zero target much sooner than that.
In the hunt for the 2019 Ashden Award winners, we have met hundreds of organisations around the world driving towards this urgent goal. This week we've named our 20 finalists – on July 3 we'll announce the 10 winners at our award ceremony in London, part of London Climate Action Week. Tickets for the event are available now.
Our finalists are improving transport systems, making buildings more energy efficient and finding new ways to store energy. They are helping people earn a living, and enjoy safer homes and cities. And they are ensuring that as we push towards net zero, we leave no-one behind. It's crucial that those that need it most have access to the clean electricity that will save lives, bring joy and alleviate poverty.
These organisations are working in every corner of the world. Their work shows the huge co-benefits of sustainable energy – ranging from better health and working conditions to action on deforestation, more engaged communities and fairer economic opportunities for all.
Here are the final 20:
13 Feb | News
People power can electrify health
Read more
Clean air and health
SMV Green
Rickshaw drivers in India work long hours for poor pay and low job
security in cities where air pollution is many times higher than WHO
guidelines. SMV Green is creating fair working conditions, with electric
rickshaws and reliable contracts – empowering drivers to buy their vehicles and
earn more money, at the same time as reducing the air pollution that kills
thousands every year. Its radical Vahini programme is training India's first
women rickshaw drivers, creating secure incomes for them and improving safety
and security for their female passengers.
Bogota
Bogota has big ambitions to become the world cycling capital, and
it's easy to see that the city is on track to achieve their aim. Long known for its Ciclovia programme that closes the city to cars every Sunday, Bogota has installed hundreds of miles of cycle lanes and seen a big impact on air quality. The city is integrating cycling culture into education, workplaces, and healthcare with impressive
inter-departmental communication from the city hall. A real cycling revolution
is happening in a South American city that was built for the car.
Karuna Trust
Reliable energy transforms healthcare, creating better services
that reach more people. India's Karuna Trust has given staff and patients the power
to deliver 21st century healthcare using affordable, sustainable energy – with
amazing results. The trust's unique approach creates systemic change rooted in
the needs of local communities. And it is the most marginalised people who
benefit most – no longer having to travel long distances for specialist care,
or risk power cuts mid-treatment.
We Care Solar
99% of all maternal deaths happen in the world's poorest
countries. We Care Solar is tackling this health crisis, by enabling safer
births in remote communities with no reliable energy supply. The organisation's
'solar suitcases' give clinics reliable lighting, vital equipment and contact
with the outside world via mobile phone charging. The life-saving kits have
been used in almost 4,000 health centres around the world.
London Borough of Waltham Forest
The London Borough of Waltham Forest has taken bold steps to clean
up its air and get people moving, with its multi-million pound 'Enjoy Waltham
Forest' scheme. Road redesigns, bike training, extra cycle storage and schools'
workshops have made the borough a safer, better place to walk and cycle. The
result is improved health and anenvironment that residents are proud of. By
acting on feedback from local people, the ambitious project overcame a rocky
start and now attracts interest from around the world.
Zedify
Zedify's green deliveries use e-trikes, e-bikes and electric vans, taking
traditional, polluting vans and trucks off our crowded city streets, helping to
clean up the air, reduce congestion and make our cities healthier places to be.
Zedify works with small businesses and local authorities – and provides an
urban delivery service for e-commerce companies and national logistics firms.
Driven by a flexible franchise model, Zedify has already spread to cities
around the UK – from Norwich to Edinburgh.
Sustainable energy
Smart Energy
Read more
Energy Innovation and Climate Change Adaptation
NEF and Energiesprong
Retrofitting buildings is one the best ways we can reduce
carbon emissions quickly in the UK, action that is drastically required, as
evidenced by the latest report from the Committee on Climate Change (CCC).
Energiesprong – 'energy leap' in Dutch – is an innovative solution to improving
poorly insulated and draughty homes, making them more energy-efficient and more
comfortable. Off-site manufacturing is used to enable whole-house retrofits to
be completed quickly and with minimum disruption to tenants. Energiesprong has
the potential to radically cut carbon from the UK's housing stock and comes
with a 30 year energy performance guarantee – all whilst giving homes a modern
makeover too.
RetrofitWorks
Improved energy efficiency is just one of the benefits of
RetrofitWorks – a co-operative that acts for clients in procuring retrofit
measures from a framework of its member organisations.  RetrofitWorks streamlines the retrofit
process, building trust for households and clients, enabling SMEs to get
involved in large-scale programmes of work in their local area, and helping to
ensure that people can live in warm, comfortable, safe homes.
Promethean Power
Every day India's farmers produce 400 million litres of milk
and often spend hours travelling to markets to sell it with no guarantee of
buyers. As it is unrefrigerated the milk is at risk of spoiling and quality is
compromised. Promethean has developed a rapid chiller powered by a thermal
battery that can be installed in village-based cooperatives increasing incomes
for dairy farmers and ensuring a high-quality product for dairies.
Medellin
Medellin has gone from being the world's most dangerous
city, to one that is bringing people together to use nature and urban greenery
for good. The Green Corridors project provides shading for cyclists and
pedestrians in what can be a very warm city, cooling built up areas and
cleaning the air along busy roads. The city's botanical gardens train people
from disadvantaged backgrounds to become city gardeners and planting technicians.
Through the power of plants, residents become communities, and city air is
cooler and cleaner.
Landscaping for Urban Spaces and High-Rises (LUSH)
Residents of Singapore live with extreme heat and humidity,
along with rapid development of infrastructure and buildings that increase the
urban heat island effect. LUSH is a policy that incentivises developers to
replace green spaces lost to development by creating green walls and vertical
gardens on new buildings, creating a cooler environment for residents and a
place for insects and birds to claim as their own.
EQuota
China is experiencing rapid urbanization, with huge new
buildings being built all the time to meet demand for homes, hotels, shopping
malls and offices. EQuota Energy provides building owners and landlords with
the world's leading smart energy management solutions. By using AI and 'big
data' technology, it enables buildings to become more energy efficient, save on
energy bills and reduce pollution in cities – all without any intrusive equipment
or installation work.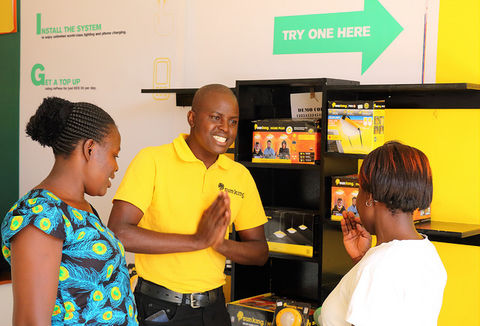 About
Strategy and mission
Read more
Equity and just transition
Sistema Bio
Small farmers the world over grow the majority of the food
that we eat, whether that be plants or animals, and are at the forefront of
climate change. Sistema has created an innovative, affordable biogas system
that makes use of animal waste, turning it into the cleanest of cooking fuels,
and producing a planet-friendly, super fertiliser. This means that farmers no
longer have to cook on expensive and polluting wood fuel or fossil fuels, reducing deforestation
and greenhouse gas emissions and increasing income potential.
KopaGas
There is no silver bullet in terms of clean cooking
technologies but Liquid Petroleum Gas (LPG) can play an important role in
moving people from polluting biomass stoves to a cleaner fuel.  Removing wood and charcoal from kitchens
dramatically improves the health of women and children otherwise exposed to
indoor air pollution. With its PAYG meters KopaGas has created an innovative
financial model that makes LPG affordable to those on the lowest incomes,
especially in city areas and reduces pressure on forests in the surrounding
areas.
Beyond the Grid Fund Zambia (REEEP)
The Beyond the Grid Fund for Zambia has brought clean energy
to hundreds of thousands of people who need it most – essential if we are going
to have a just transition to the zero-carbon economy we need to achieve. In a
country where more than 70% have no access to modern energy, many families can
now buy lights and mobile phones for the very first time. The innovative fund, managed by the Renewable Energy and Efficiency Partnership (REEEP), on behalf of the Swedish Embassy in Zambia, works by providing financial incentives to renewable energy companies – their performance is closely watched and payments are linked to the financial requirements of the project. Crucially, the scheme ensures that only high-quality products are sold, with a three-year warranty.
Highview Power
Without innovation in storage for renewables we won't reach
the ambitious carbon reduction targets outlined in the recent Committee on
Climate Change report and highlighted by the declaration of a Climate Emergency
by UK parliament. Highview Power's ground-breaking Cryobattery technology
enables large-scale energy storage to be built more cheaply and with less
environmental impact than other kinds of battery.
Cryobatteries help keep the grid stable as the share of
renewable energy increases, and can also store excess solar and wind energy for
later use, smoothing out variable renewable energy supply. Highview's
CryoBatteries store energy using liquid air and are made more efficient by
clever use of the waste cold and heat created during the process. CryoBatteries
are relatively cheap, long-lasting and easy to make and install.
Guru Systems
In order to reach the ambitious targets set by the Committee
on Climate Change, the UK has to make heating buildings efficiently a priority.
When blocks of flats share a single heating system, just one or two small
problems can severely reduce efficiency for the entire building – wasting
energy and driving up bills.
Guru Systems' unique hardware and software
harvests detailed information from across a heat network, and uses machine
learning to present it in a usable form to building managers and engineers,
enabling them to pinpoint problems to be fixed and dramatically reduce energy
use and costs for residents. The Guru hardware also includes an in-home display
to help residents keep track of their energy use, giving them more control over
their bills.
Habitat for Humanity
Armenia's crumbling apartment blocks expose residents to
brutal weather and high heating bills, which can leave them trapped in poverty.
Habitat for Humanity has worked with local authorities and residents to improve
homes and public buildings, making them more efficient, and crucially, warmer.
Residents are involved at every stage. Habitat also helps raise awareness of
energy efficiency in schools, and gives local authorities the skills to run
future projects themselves.
Resham Sutra
In India wild silk has long been prized as a premium
product, with skilled women reeling silk from cocoons to be woven into
beautiful fabrics. But behind the luxury there has been suffering – the
traditional process of producing thread, thigh-reeling is a physically
demanding and undignified process with women working long hours to produce
enough silk to make a living. Resham Sutra has developed a range of affordable
electric reeling machines that vastly improve working conditions and create a
predictable, dramatically increased income for silk workers.
Baobab+
Baobob+ brings solar power into people's homes in Senegal,
Mali, Madagascar and Cote d'Ivoire. Customers get access to torches and lights,
phone and tablet charging and more. Pay-as-you-go technology helps even very
poor families take part. Buying through Baobab+ allows many customers to build
a credit history for the first time, putting life-changing loans within reach.
Book your ticket to hear from the 10 winners at the Ashden Awards Ceremony, with keynote speaker Mary Robinson in London on 3 July.